Der Top-Marktplatz um Menschen mit Firmen zusammenzubringen.
Shoppi ist ein auf dem Maschinenlernen basierender, markenzentrierter, und inhaltsbezogener Marktplatz. Wir helfen Ihnen dabei Ihre Firma mit visuellen Methoden an das richtige Publikum zu bringen.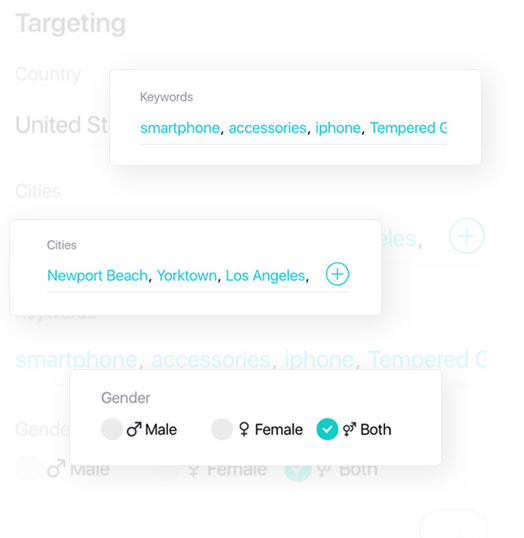 Verkaufen Sie mehr. Testen Sie unsere mobile Werbung für Unternehmen
Wir helfen Firmen dabei, aus bereits bestehenden Media-Inhalten einen visuellen Katalog zu erstellen, und dadurch neue Märkte zu erschliessen.
Erstelle dein Konto
Sie können Zielgruppen basierend auf Standort und Interessen erreichen.
Ihr Unternehmen bei Shoppi
Statistiken zum Datenverkehr Ihrer Seite
Synchronisierung mit Ihrer Facebook-Page
Auftragsverwaltung
Twitter-Integration
Zahlungen per PayPal entgegen nehmen
Kundenspezifisches Design für Ihr Geschäft
Helpdesk Ticketsystem
Personalmanagement der Seite
Alle wichtigen Kredit Karten akzeptiert
Erfahren Sie mehr
Frequently Asked Questions
Shoppi ist ein markenzentrierter und inhaltsorientierter Marktplatz, der durch maschinelles Lernen unterstützt wird. Wir helfen Ihnen dabei, Ihr Unternehmen mit einem visuellen Ansatz dem richtigen Publikum zu präsentieren.
Der Kaufprozess beginnt mit der Informationssuche und Bewertung von Alternativen durch den potenziellen Käufer. In der Tat fehlen auf traditionellen E-Commerce-Webseiten oft Inhalte, so dass der Käufer gezwungen wird, sich diese Informationen über verschiedene inoffizielle Kanäle selbst zu suchen. Im Ergebnis steht der Käufer nicht mehr mit Ihrem Unternehmen in Verbindung, sondern schließt seinen Kauf statistisch häufiger auf einer Konkurrenz-Webseite mit einem größeren Marketingbudget ab.
Mit einer inhaltsorientierten Strategie, auf Englisch "Content-first", können Sie ein unterhaltsames Einkaufserlebnis bieten und die Bekanntheit Ihrer Marke steigern. Die von ihnen gewählten Inhalte (Videos, Geschichten und Bilder) zeigen Ihre Einzigartigkeit. Wenn Sie dieses neue Konzept ausprobieren möchten, können Sie hier die App für Verbraucher herunterladen: https://www.shoppiapp.com
Nein, aber bitte beachten Sie, dass bei Kreditkartenzahlungen eine Gebühr anfällt – dies ist auf unsere Bemühungen zurückzuführen, eine möglichst geringe Anzahl von Rückbuchungen zu gewährleisten.
The Shoppi marketplace breaks out from traditional online shopping, allowing you to engage with the audience via multimedia content such as videos, blogs and images. This way, you can entertain current, and attract new viewers. Shoppi stores all sales, traffic, and other vital data and presents it to you in the form of infographics that give you clear and critical insights into your business. Streamline your sales process and increase your business agility with Shoppi.
We support top-notch businesses by empowering their customer journey. We genuinely believe that visual categories offer time-saving experience in browsing vast catalogues – with the aid of machine learning, we provide an ongoing tailored SmartFeed to each customer.
Engaging with current customers and attracting new audiences is essential to the survival of most B2C businesses. Shoppi is innovative mobile commerce and social media platform that allows you to sell to and engage with a mobile audience. It also operates as a 'Point of Sale' software enabling you to accept face to face payments through in-store hardware. With Shoppi POS, you can access a wealth of active shoppers without the need for additional SEO or marketing budgets – our software handles all this for you.
Shoppi gives you access to active mobile shoppers that may not be possible to engage with through digital or traditional marketing methods. Your sales process is streamlined, and you are given insights that will help you drive more sales than the conventional solution. Fresh new content from your business will be promoted to the users via a smart stream, and the payment process is made simple. Loyalty is encouraged through the social aspect of the technology, and new customers can be reached through engaging content.
Our technology will start from scanning your website, social media and existent data on the web to gathering accurate data and keep them synced for you. Our technology and experience in big data and content analysis offers you a powerful and fully automated way of processing and storing your data to appeal to our user base.
Currently, we have 1800 new vetted merchants per month, and we aim to expand our base to offer more options to our customers. Our marketplace is brand-centric, and this is the most exciting part for merchants because they can be in control of their marketing strategy on Shoppi.
We can offer your company "data insights" that will show, if our platform fits your business. Our data insights will include visitors, platforms, and record of all content published by you on Shoppi© – this is a great way to test your marketing.
If you are a large company, we will assist you with setting up your business profile reply to all your questions (free of charge).
Simply create your free business account at Shoppi, upload your business logo, fill your payment details, and publish your first content such as photos and articles.
Any business that has a product or service that is marketable to a consumer is compatible with Shoppi.
Simply create your free business account at Shoppi, upload your business logo, publish your first content, and fill your payment details in by enabling payments.
Shoppi is suitable for any business. Businesses can upload their price list making it possible for customers to book services.
Yes, all customers can connect their domain to Shoppi page or buy a new unique domain.
The minimum contract period is either three months or six months for startup plan and 1-year subscription for higher plans that is automatically renewable at the end of the period.